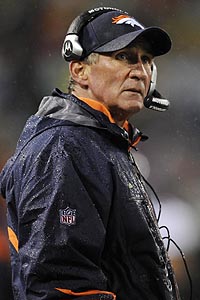 According to ESPN this morning there is a report by Chris Mortenson that Jerry Jones is very interested in the possibility of hiring Mike Shanahan, the recently fired coach of the Denver Broncos.
Shanahan's unexpected firing Tuesday by the Denver Broncos has prompted Jones to give "thought" to hiring Shanahan as the future Dallas coach — even more so than Bill Cowher or Mike Holmgren — but 2010 may be more timely than 2009, the sources said.
The story was first reported Saturday morning on ESPN's NFL Countdown show.
Jones and Shanahan have had a strong relationship and share a mutual admiration for Cowboys quarterback Tony Romo. Shanahan offered Romo more money than Jones did in 2003 when Romo was an undrafted free agent out of Eastern Illinois, Shanahan's alma mater.
There's no reason to doubt the validity of this story given how the Cowboys were defeated by the Ravens and the lackluster effort against the Eagles. I just hope someone can get in there and bring some kind of order to a club with no discipline or courage. Stay tuned.