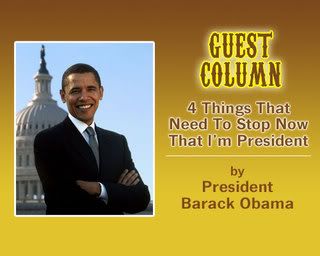 Editors Note: We here at LewP's Blog like to hear from different perspectives.  Therefore, we were over-joyed when Barack Obama contacted us and said he'd like to write a guest column.
Now that I'm president, here's four things I want you people to stop doing.
1. Rhythymically yelling O-Bam-A when you see me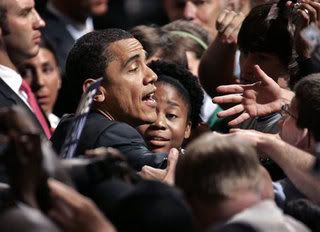 Seriously, when I walk up to a podium, stop f*&king chanting my name like I just shredded on a three and a half minute guitar solo. I get it, you like me, I guessed that from the 300+ electoral votes I received.  I'm not a fat sorority chick, I don't need you to tell me how awesome I am every three seconds.  You guys think the chant is awesome, but news-f*&king-flash, that's all I hear in my head all day long.  Do you know how hard it is to make love to your wife when you hear the sound of 100,000 people chanting your name?  It's like making a porno on the fifty yard line of soldier field during the fourth quarter of a playoff game.  Not boner-conducive.  No mas.
2. Asking Colin Powell his reactions to shit I do: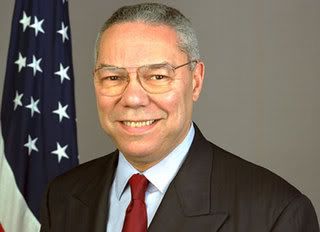 Really?  That's the only black guy you can find?  The last time I listened to something that boring I paid 9.99 for it and it was sung by Jon Mayer.   Last I checked, there's lots of black dudes in the U.S., find one that doesn't sound like my GPS navigation system.
3. Asking Me About Playing Basketball: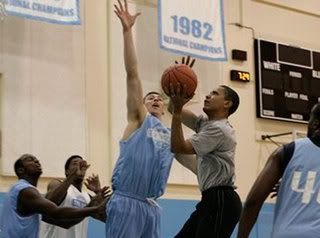 Every interview you need to ask me this?  It's REC BASKETBALL, it's not like I'm the small forward for the Pistons.  99% of the time I play with old sweaty dudes that shoot a basketball like they're trying to shove a rapist off them.  It's not news worthy, and what ends up happening is now I go and play and everyone is all over my shit because they want to "shut down Obama." 
4. No More Bullshit About What Kind Of Dog We're Getting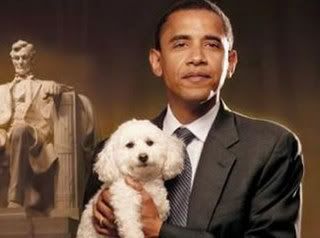 I told you guys before that we were still talking about what kind of dog we're going to get. Do you know what happens when you ask me what kind of dog we're getting? My kids ask me what kind of dog we're getting, and kids are like white people who voted for me: they won't shut the f*&k up about it. Honestly, I don't really care what it is. I've got a whole team of people now who's sole job it is to take care of whatever dog I get. I'm probably not even gonna see the stupid thing. Oh, and also, I'm trying to run the entire god damned free world now, so the whole dog issue is very low priority, okay? If one more person asks me about the dog thing, I'm gonna flip out. Don't think that just because I'm sophisticated and smart I can't get ghetto on somebody. I got it in me, ya hear?!