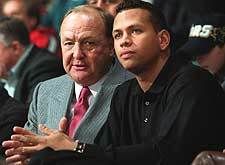 In a recent article in the Dallas Morning News, Rangers Owner Tom Hicks said he felt "betrayed" by Alex Rodriguez.
Rangers owner Tom Hicks said he feels "personally betrayed" and deceived by Alex Rodriguez after Rodriguez admitted Monday in an ESPN interview that he used performance-enhancing drugs while with the Rangers from 2001 to 2003.
Sounding angry and disappointed in a conference call Monday, Hicks said he asked Rodriguez, while the slugger was playing for Texas, if he was taking steroids.
"Not in an accusatory way, but I certainly asked the question in a way where I came away with a clear answer that he had much too much respect of his body to ever do anything like that to hurt it with steroids," Hicks said.
Rodriguez, 33, apologized to Rangers fans during the interview, but Hicks said he isn't ready to forgive.
"I'd rather have one further apology to the owner of the Texas Rangers who signed him to that contract," Hicks said. "Then I'll decide if I accept that apology."
Rodriguez said pressure to perform well in Texas after signing a 10-year, $252 million contract, then the most lucrative in baseball history, prompted him to take a banned substance.
Yeah, we all know it's a lot of pressure to play in a baseball Mecca like Texas.
Texas Rangers owner feels 'betrayed' by Alex Rodriguez (Dallas Morning News)