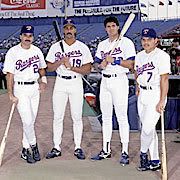 An interesting article by Richie Witt over at the Sportatorium. The Texas Rangers may have had the biggest-named profiles on steroids on one team than any other team in Major League Baseball.
Ruben Sierra. Jose Canseco. Ivan Rodriguez. Juan Gonzalez. Rafael Palmeiro. Alex Rodriguez.
Huge individual numbers. Miniscule team results. Chalk one up for "cheaters never win …
For all their home runs and fireworks displays and MVPs and "wow!"s out in Arlington, the Rangers remain the only current franchise in Major League Baseball to have never won a playoff series. With the bulk of those players together on the 2002 team, the Rangers lost 90 games.
In looking back at that team it's a wonder so much talent could be on one team at one time, and be so inept.
Your Texas Rangers: The Steroid Sluggers (The Dallas Observer)