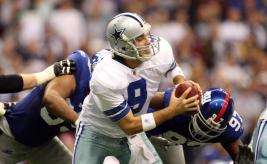 From the Blue Star Blog
Yesterday, Dallas Morning News writer Jean-Jacques Taylor (who, given his name and photo, should really be some sort of Project Runway contestant) pointed out that the Cowboys are on the verge of having the worst decade in their history, strictly from a wins and losses perspective.
The franchise has never finished any decade in their existence with a losing record, but they are a definitively average 71-73 coming into the 2009 season. Taylor points out that the team needs to finish at least 10-6 this year to beat the team's current Worst Decade mark: the 1960's. The Cowboys finished 67-65-6 that decade, which only added insult to injury, considering all the other pesky things Texans had to deal with at the time: hippies, people wiggling their pelvises for a national TV audience, demmycrats taking over the White House, women getting jobs, and such and such.