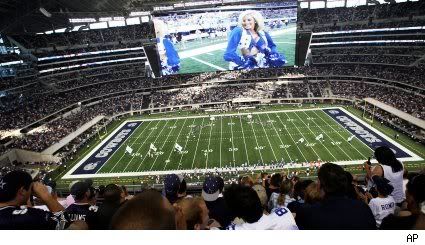 It seems that as fancy as the new Cowboys Stadium is, there is going to be lots of controversy with the new video board and punters punting the ball and hitting the board.
In the third quarter, Titans backup punter A.J. Trapasso drilled the giant board with a towering punt. He almost hit it again when, by rule, he had to re-kick the ball. Trapasso said the video board has to move, but Cowboys coach Wade Phillips said the punter tried to hit it on purpose.
So now, there is controversy already about it.