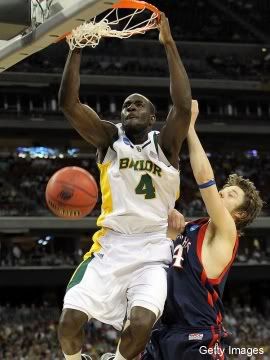 From Out of Bounds
Yeah, no one gets that headline, do they? More on that later.
In any event, No. 10 seed St. Mary's magical run through the NCAA tournament came to an abrupt, punched-in-the-man-parts ending last night courtesy of a 72-49 butt-whooping at the hands of No. 3 seed Baylor. And despite the 28 point scoring differential, it wasn't even that close.
In fact, it was downright ugly, a bloodbath. The manner in which the Bears dispatched the Gaels was frighteningly efficient and downright clinical. It was so bad you almost didn't want to watch, but couldn't turn away from the specatcle. The carnage was just too…enthralling. Let's put it this way, when the halftime score is 46-17, it almost makes one wish there was a such a thing as the mercy rule in college basketball.
For Baylor, it brings them one step closer to the Final Four, an achievement the college has not realized since 1950.
For St. Mary's, head coach Randy Bennett preferred to take a philosophical approach about the beating:
"Bottom line, when it was all said and done, I was proud of what we did this year. I told them they we stunk tonight. … Nobody wanted it to go that way but it went that way."