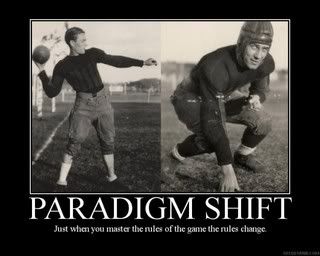 The economy is hurting just about everywhere. This isn't news. In fact, some people say the worst is over and we Americans can feel confident that things will be getting better soon. We can only hope so.
With that said, it struck me today if indeed things are getting better, or are we just seeing a paradigm shift?
In case you haven't heard, General Motors is filing for bankruptcy.  GM has been a major Arlington employer for many years.
And this new bankruptcy from the parent company of Six Flags is equally disturbing. Six Flags has been an Arlington institution for as long as I can remember. So what about this? The new Dallas Cowboys stadium is open now, and Jerry is looking to cash in on the central location of Arlington. Right up the street from Six Flags and the Texas Rangers. Will it be successful? We can only hope so.
Back in my day, when you claimed bankruptcy, it means you lost. You failed at economics. Today, it means you get a second chance and the debt you had, goes away. But it really doesn't go away. Some other business has to eat it's losses, and the domino effect cascades down to the lowest level.
So, just because a company stays open after a bankruptcy, don't think the debt of that company magically goes away. Some poor guy is eating it.